Entertainment News
Such is the lifestyle of MS Dhoni, see his collection of expensive cars and bikes on his birthday, the price will surprise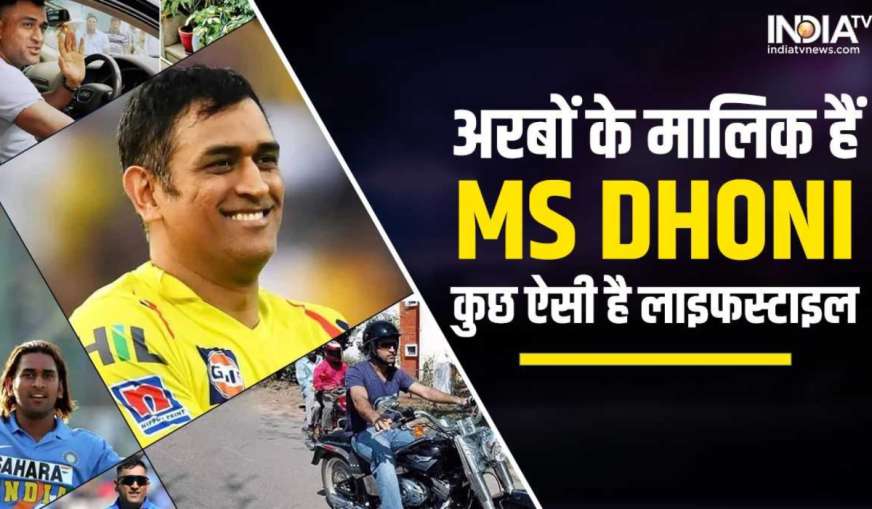 MS Dhoni is celebrating his 41st birthday today i.e. on 7th July. Former Indian captain Mahendra Singh Dhoni is very fond of cars and bikes. We get to see his love for vehicles from time to time in social media. At the same time, Dhoni is also famous for his amazing collection of cars and bikes. He has vehicles like Audi Q7, Mercedes-Benz GLE and Jeep Grand Cherokee Trackhawk in his garage. At the same time, bikes like Yamaha RD 350, Confederate Hellcat X32, BSA Goldstar, Harley-Davidson Fatboy, Kawasaki Ninja are also present.
Mahendra Singh Dhoni has a luxury car Hummer H2. Only a few people have this powerful SUV in India. Dhoni had bought Hummer H2 in the year 2009 and at that time its price was 75 lakh rupees.
Dhoni bought this model of Ferrari after winning the World Cup in the year 2011. The cost of which was about 1.5 crore rupees.
In the year 2019, Mahendra Singh Dhoni took the Jeep Grand Cherokee. This luxurious car of Jeep is quite powerful, and its price starts from Rs 1.12 crores.
Mahendra Dhoni also has a Jeep Nissan Jonga used in the Indian Army. It was specially customized for Dhoni and it is so powerful to look at. A picture of Dhoni went viral, in which he was seen cleaning the Nissan Jonga.
America's very popular car GMC Sierra is also in Mahendra Singh Dhoni's garage. Only Dhoni has a GMC car in India. Its price is around 70 lakh rupees.
Dhoni keeps it in his garage.
Mahi himself has been seen many times driving this luxurious flagship SUV on the road. V12 turbo-diesel engine has been given in this vehicle. The most expensive car owned by Dhoni is Grand Porch 911. Its price is 2.5 crores. It can accelerate from 0-100 km/h in just 4.5 seconds.
Dhoni has many bikes like this, but there is something else about his Yamaha RD350. He bought it at a time when he did not play international cricket. Mahendra Singh Dhoni's first bike was Rajdoot. Dhoni bought this bike for around Rs 4,500. Dhoni has also shared the picture of this bike on Twitter, and wrote on the post My first bike This bike is still standing in Dhoni's garage.
The cost of this bike of Dhoni is around 30 lakh rupees.
Harley-Davidson Fat Boy is a great cruiser bike. The bike with an engine of about 1700 cc is one of Dhoni's special choices.
Dhoni liked this bike so much that he bought it as soon as it was launched.



Vintage Bullet BSA Goldstar
Dhoni once forgot the traffic rules while riding the vintage Bullet BSA Goldstar, after which he had to pay the challan. From this you can understand how much Dhoni will like this bike.
Also read-
Movie Release This Week: Will these films be released this week, action or comedy, whose magic will work?
Ponniyin Selvan: Aishwarya Rai's look revealed from Mani Ratnam's 500 crore film, will break the record of 'Bahubali 2'?




Source link