Entertainment News
Rakhi Sawant made serious allegations against ex-husband Ritesh, reached police station with new boyfriend Adil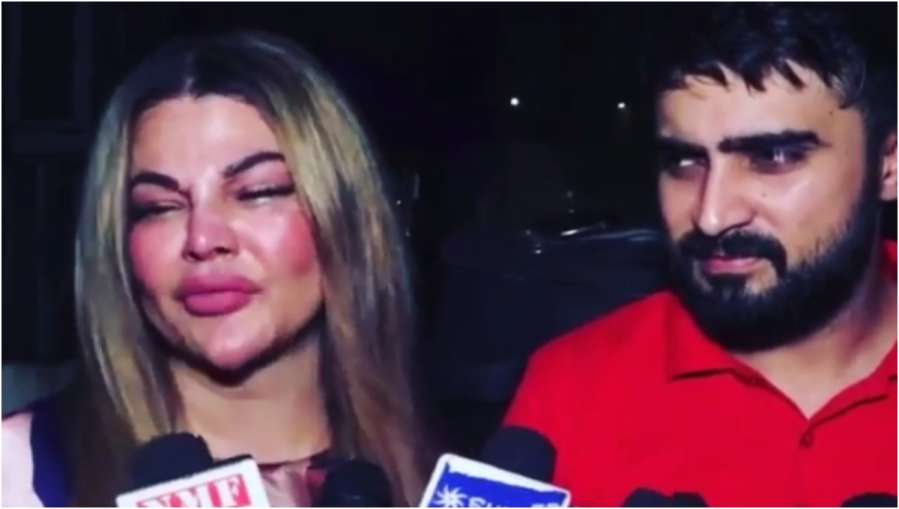 Highlights
Rakhi Sawant filed complaint against ex-husband Ritesh
Rakhi meets Cyber ​​Crime Unit
Rakhi Sawant ControversyDrama queen Rakhi Sawant has been making a lot of headlines for a long time for her new boyfriend Adil. One Rakhi drama doesn't end, another one begins. Meanwhile, once again the video of the actress is becoming increasingly viral everywhere on social media.
In the video going viral, Rakhi Sawant is seen crying bitterly. Actually, Rakhi Sawant recently wept in front of the media that her social media accounts have been hacked. Not only this, Rakhi also said that she is getting dirty messages. At the same time, Rakhi along with her new boyfriend Adil Durrani reached Oshiwara police station in Mumbai in this matter. Here Rakhi complained about her Instagram account being hacked. Along with this, the drama queen also made serious allegations against her ex-husband Ritesh.
The video of Rakhi Sawant coming out of the police station is also becoming quite viral. Take, you also listen to what drama queen Rakhi Sawant is saying now. This video is proof that the drama of Rakhi's personal life is not taking its name to end.
Rakhi says that we have lodged a complaint in the cyber branch, but as soon as the inspector called Ritesh, he started threatening him that I will call the commissioner. You tell he is threatening here too. In such a situation, I may be given security. He was fond of becoming a villain. Make him a villain. Now I have to come here tomorrow afternoon. Because the protocol of the police station has to be followed.
On this whole drama, Rakhi says that in three years she has misbehaved with me a lot. He used to throw me out of the house and even used to abuse me. Now he is attacking my social media. All my Facebook, Instagram accounts have been hacked and he has done this work. Why is he bothering me? He has clearly told me that he will destroy me.
Let us tell you that this is not the first time that Rakhi's name has come in the discussion due to some reason. Rakhi Sawant suddenly announced her marriage in the year 2020 by sharing some pictures. In the pictures, Rakhi was dressed like a bride but her husband's face was not shown. After which she was seen with her husband Ritesh for the first time in Bigg Boss 15. But as soon as this show ended, their marriage relationship also broke down. Rakhi had given this information to her fans through a post on social media. Rakhi got her ex-husband's name tattooed, which she got it removed.
also read ,
Imlie Twist: Tamarind will expose Jyoti, tremendous twist is coming in the show
Happiness knocks in the life of Ankita Lokhande, after 6 months a new beginning with husband Vicky Jain!




Source link