Entertainment News
Nayantara-Vignesh broke the rules of Tirupati temple, the newly-wed couple apologized after receiving the notice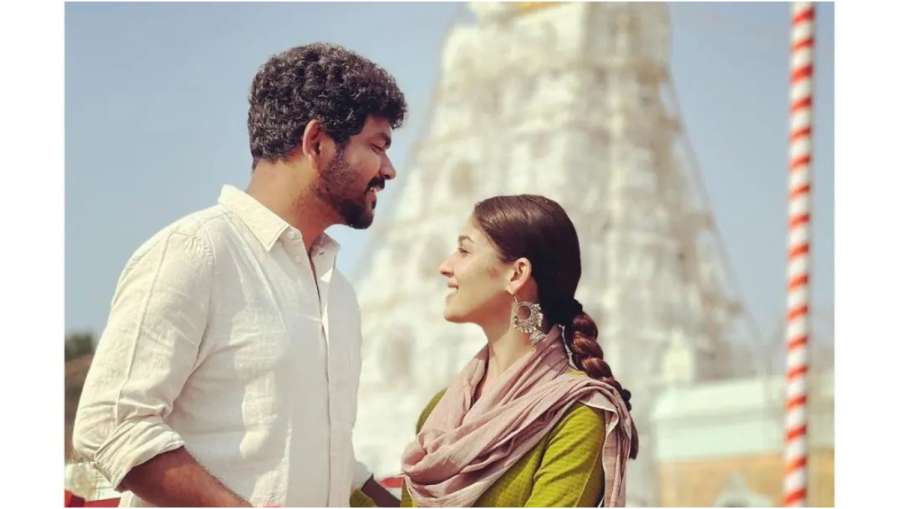 Highlights
Nayantara-Vignesh broke the rules of Tirupati temple, apologized
Nayantara got a photoshoot done wearing slippers in Tirupati temple
South's beautiful actress Nayanthara and producer Vignesh Shivan tied the knot on June 9. After dating each other for almost 6 years, both of them finally got each other forever. Nayantara and Vignesh's marriage is one of the grand weddings of South Film Industry, which was very much discussed. The same new-born couple is once again in the headlines.
Nayanthara and director Vignesh are in trouble. In fact, soon after tying the knot, the couple had reached Tirupati to seek the blessings of Bala ji. At the same time, Nayantara was seen walking inside the temple premises wearing slippers and doing photoshoots. While wearing slippers and photography there is strictly prohibited. Now after this, the Chief Vigilance Security Officer of Tirumala Tirupati Devasthanam Committee, Narasimha Kishore has sent a legal notice to him.
Alleging Nayantara in the notice, it has been written that – 'Nayantara was roaming around the temple premises wearing slippers during this time. Our security guard immediately stopped them. We found in the CCTV footage that both of them broke the rule and got a photoshoot done there, which is forbidden here.
On this whole matter, Narasimha says, 'There is no permission to use personal camera here. We are sending a notice to Nayanthara. We have spoken to him on the phone as well. He is ready to apologize to Lord Balaji, temple committee and devotees by issuing a video message. However, despite this, we will send him a notice.
After all this, Vignesh apologized for the violation of temple rules, saying, 'Immediately after the wedding, instead of going home, we went straight to Tirupati temple. There a lot of people surrounded us. So we went ahead from there and after a while came back in front of Ezhumalayan temple. We hurriedly finished the photoshoot and decided to leave because if the fans saw us, they would have surrounded us.
Vignesh further said, 'After all this, we noticed that we were walking in a place wearing slippers, where it is forbidden to wear footwear. We are sorry for the inconvenience. We have been to Tirupati five times in the last month as we were planning to get married there. But due to various reasons we could not get married there.
Also read –
Nayanthara-Vignesh Shivan had to go to Tirupati Balaji temple expensive, Nayanthara got legal notice
Prathyusha Garimella: Suspicious death of top fashion designer Pratyusha Garimella, carbon monoxide cylinder found in bedroom




Source link