Entertainment News
Koffee with Karan 7 Akshay Kumar reveals the secret of Bollywood failure to Samantha Ruth Prabhu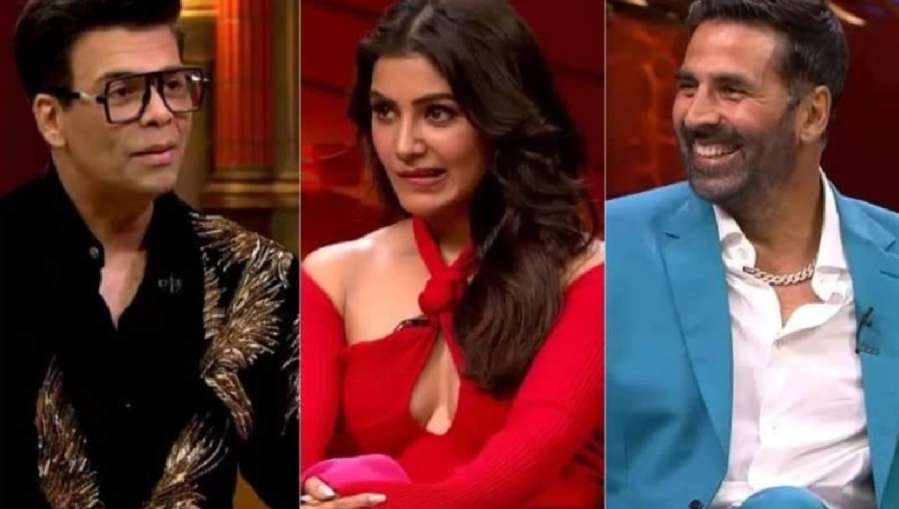 Highlights
Akshay and Samantha talk on personal life
Samantha calls Akshay a royal star
Akshay told the weakness of Bollywood
Koffee With Karan 7: Filmmaker Karan Johar's most famous talk show 'Koffee With Karan Season 7' ​​has recently started streaming. Its third episode aired on Thursday evening, 21 July 2022. The episode featured a combo of Bollywood and South Cinema with Karan Johar. Because here Bollywood player Akshay Kumar and South's top actress Samantha Ruth Prabhu came as guests. In this show, Akshay Kumar exposed Bollywood in front of Samantha.
Karan warmly welcomed
Karan Johar is considered to be the best host of India. Even in this episode, Karan grabbed the attention of people with the words he said in welcoming Akshay and Samantha. But the twist came when Akshay Kumar entered the show with Samantha in his lap. Seeing this entry, Karan himself, the host of the show, was also stunned.
Samantha calls Akshay a royal star
After this entry, Samantha praised Akshay a lot and called him the Royal Star of Bollywood. In fact, as soon as she sat on the couch, Samantha revealed that she was very nervous about appearing on the show. When Akshay Kumar asked the reason for this, Samantha said that she was a little nervous on meeting the royal stars of Bollywood. But Akshay turned this thing towards Karan Johar and said that the royal man is only Karan Johar.
Why Bollywood is getting beat from South
In this show, Karan Johar put his hand on the ache of Bollywood and showed the list of Pan India No 1 stars of Ormax. In which 10 stars like Vijay, Jr NTR, Prabhas and Allu Arjun were involved but there was only one name from Bollywood, that too Akshay Kumar. On seeing this, Akshay openly told the weakness of Bollywood in front of everyone.
Big stars don't work together
Akshay Kumar told that many actors do not want to do a two-three-star film in Bollywood, while this is happening in the South. He told that he himself has also gone through this bad experience. Even after giving the role of mind, actors avoid appearing in multi-starrer films. On this, Akshay told that Bollywood actresses are good in this matter. He told that he has worked with 5 actresses in 'Mission Mangal'. Let us tell you that Karan Johar has also included in the list of Pan India Best Actress, Samantha is at number one and Alia Bhatt is on 2 in this list of the show.
Talking about personal life too
On this occasion, Akshay Kumar and Samantha also spoke openly about their personal life. Samantha also talked about the false news and trolls that were made at the time of her divorce. At the same time, Akshay Kumar gave his views on nepotism and personal life.
Also read-
Shamshera Twitter Review: Did Ranbir Kapoor's film win the hearts of the audience? Know review here
Shamshera First Review: Before watching, definitely know how Ranbir Kapoor's film is
Shamshera: Makers' big bet on Ranbir Kapoor, know how many tickets sold so far?
Latest Bollywood News




Source link