Entertainment News
'Khuda Hafiz: Chapter 2' makers apologized for hurting religious sentiments for song controversy | There was a ruckus over the song 'Khuda Hafiz: Chapter 2', the makers asked for hurting religious sentiments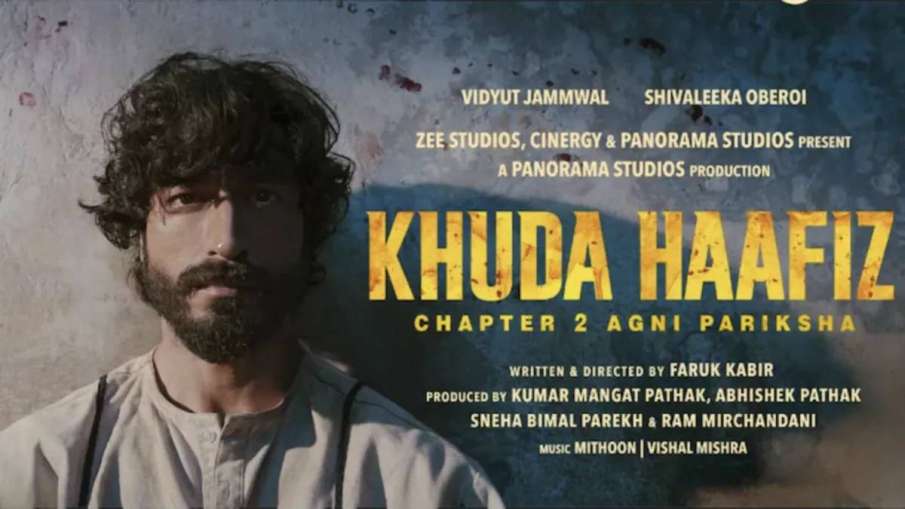 Highlights
ruckus on the song of khuda hafiz
People of Shia community got hurt
Makers had to apologize
Khuda Hafiz Chapter 2: Fans are very excited about 'Khuda Hafiz: Chapter 2 – Agni Pariksha'. Once again Vidyut Jammwal is in the headlines for his action from this film. But even before the release of the film, there was a ruckus due to one of its songs. Because of this, the makers have apologized to the members of the Shia community. Because the Shia community had said that singing 'Haq Hussain' had hurt their religious sentiments.
What did the makers say about the song?
The statement issued reads as follows, 'We the makers of Khuda Hafiz Chapter 2 Agni Pariksha are taking immediate action on the concerns expressed by some members of the Shia community. Sincerely apologize for the mistake that the lyrics of the song 'Haq Hussain' have inadvertently hurt. Some members of the community had objected to the use of the word 'Husain' and chains.'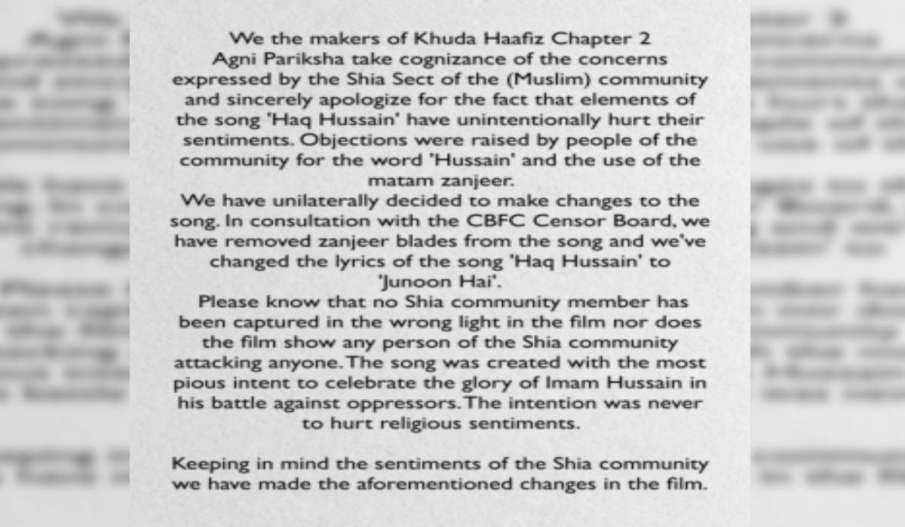 Khuda Hafiz: Chapter 2
change in song
It was also said in this statement that it has been decided to make some changes in the song. It reads, 'We have decided to make changes to this song. Following the advice of CBFC Censor Board, we have removed Zanjeer Blade from the song and we have changed the lyrics of the song 'Haq Hussain' to 'Junoon Hai'. Please know that the film does not depict any member of the Shia community in the wrong role nor does the film depict any person from the Shia community attacking anyone.
the intention was not wrong
At the end of this statement, it is said that this song was created with a pious intention to highlight the merits of Imam Hussain and the intention was never to hurt religious sentiments. Nevertheless, voluntarily, keeping in mind the sentiments of the Shia sect, we have made changes.
Will release on 8th July
Vidyut Jammwal and Shivaleeka Oberoi are in lead roles in 'Khuda Hafiz: Chapter 2 – Agni Pariksha'. The film is written and directed by Farooq Kabir. The music of the film is given by Vishal Mishra. Panorama Studios and Action Hero Films, it is slated to release in cinemas on 8th July.
Also read-
The superhit song Teri Galiyan returns in Ek Villain Returns, shows Arjun-Tara's sizzling chemistry
Kangana-Javed Defamation Case: Kangana Ranaut appeared in Andheri coat of Mumbai, know what is the matter




Source link