Entertainment News
Kaali Poster Controversy: FIR against Leena Manimekalai in UP and Delhi, Leena said- "As long as I am alive, I will speak fearlessly".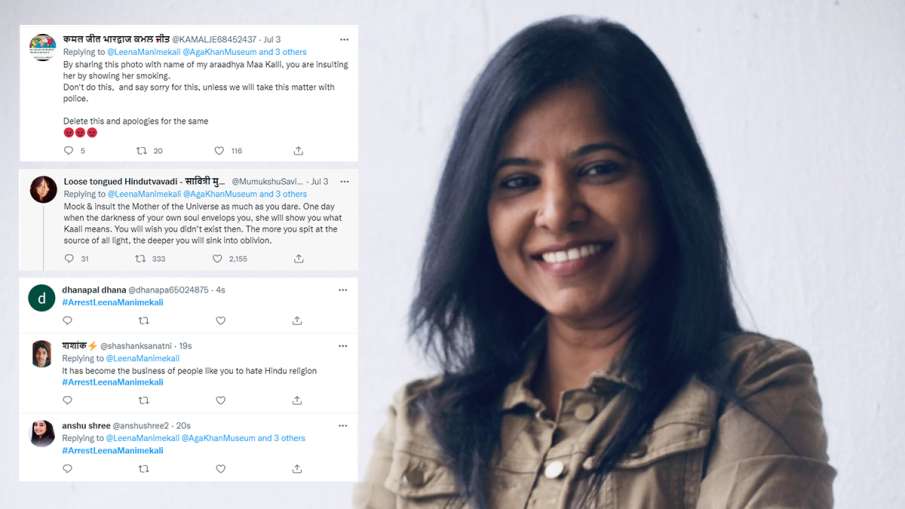 Kaali Poster Controversy: Filmmaker Leena Manimekalai has been in trouble ever since she shared the poster of her documentary film 'Kaali'. The controversy over the objectionable poster of his film 'Kali' is increasing continuously. Seeing this poster, the sentiments of the people have been hurt a lot. So, now on one hand, an FIR has been registered against the makers in Uttar Pradesh. At the same time, news is coming that Delhi Police has also filed an FIR against the producers for hurting religious sentiments. Let us tell you that in the poster of the documentary 'Kali', the actress who turned mother Kali has a cigarette in one hand and a LGBTQ flag in the other hand. Seeing this form of Maa Kali, everyone is furious.
FIR in UP and Delhi:
According to ANI, UP Police has registered an FIR against Leena Manimekalai, the producer of the film 'Kali' for derogatory portrayal of Hindu gods and goddesses, on charges of criminal conspiracy, crime at the place of worship, intentionally causing breach of peace with intent to hurt religious sentiments. is of. Delhi Police has registered an FIR under sections 153A and 295A of the IPC in relation to a controversial poster related to a black film.
Lena's statement on Twitter:
Manimekalai wrote in a Twitter post, "I have nothing to lose. As long as I am alive, I want to be the voice that speaks fearlessly and openly. If it costs my life, it can be given." Is." When the controversy surrounding the poster started increasing all around, Leena shared the post in Tamil and wrote, "It is shown in this movie that one evening Kali appears and starts roaming the streets of Toronto. If you watch this movie you will get it. Instead of demanding my arrest, you will fall in love with me."
Arrest demand:
The filmmaker has shown Maa Kali smoking a cigarette in the poster. Due to which there is a controversy, people say that their sentiments have been hurt by this act of filmmaker Leena Manimekalai. In the poster, along with Kali smoking a cigarette, a trident in one hand, and the flag of the LGBTQ community in one hand is visible, which people are furious to see. Users on social media are demanding their arrest, accusing the makers of this film of hurting religious sentiments.
Also read-
Not only 'Kaali', these films are also accused of insulting the deities
Mother Kali was seen smoking a cigarette in the documentary film Kali, social media users were furious after seeing the poster of the film
Aarya 3: Sushmita Sen will be seen in the role of a powerful don, the third season of 'Aarya' will come soon




Source link