Entertainment News
Kaali Poster Controversy director Leena shared a picture of 'Shiv Parvati' smoking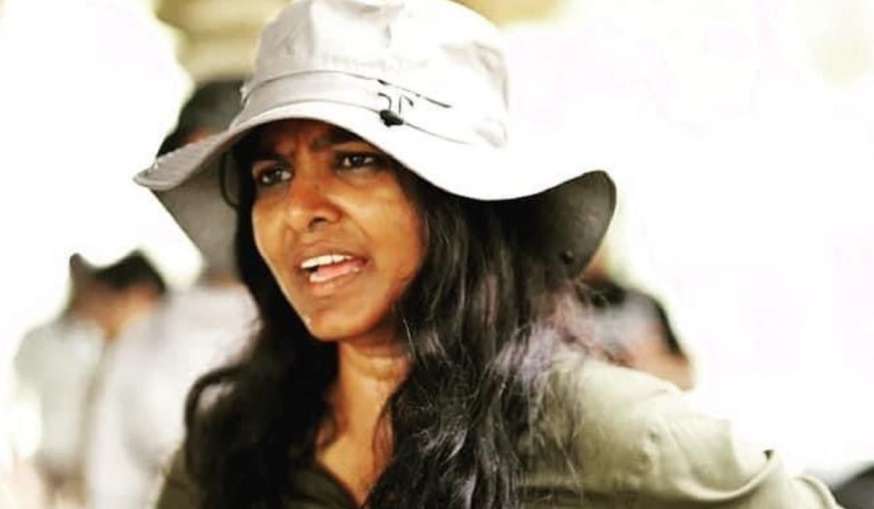 Highlights
Another picture after 'Kaali'
Director Leena again created controversy
people angry on twitter
Kaali Poster Controversy: Recently, as soon as the poster of a documentary film 'Kaali' was released, protests started everywhere from social media to it, in this poster there was a woman in the guise of Hindu goddess Maa Kali who was seen smoking a cigarette. Was. After this controversy, cases were registered against director Leena Manimekalai in many places all over the country, but even now Leena is not deterring from her antics. In the midst of the controversy, he has now shared a controversial picture about Lord Shiva and Parvati.
Leena is giving such clarification on the poster
Actually, Leena has been trying to prove herself right since the poster controversy of the film 'Kali'. In such a situation, when none of his maneuvers worked, he has shared a picture on Twitter in which two artists are standing in the guise of Lord Shiva and Mother Parvati and they are also smoking. In its caption, Leena has written, 'Somewhere else'. See this tweet…
What is Leena trying to say?
It is clear from this picture that Leena is trying to prove herself innocent with this picture. She is trying to say that her poster is correct and it is a common thing. In such a situation, seeing this picture, people are again angry. People are writing in the comments that she cannot prove herself right by showing the mistake of others.
Organizers apologize
The film 'Kaali', produced by Leena Manimekalai, was to be screened at the Aga Khan Museum in Toronto organized by Toronto Metropolitan University as part of a multimedia storytelling project, Under the Tent. Its poster was also shown here for the first time. But after the controversy, the organizers of the event have apologized and wrote, 'We are sorry that due to some material on Saturday 2nd July, the sentiments of the people have been hurt and we are taking steps to take action in this matter. We are committed to equality, diversity, while at the same time respecting the beliefs and perspectives of everyone in our society. We recognize the need to sensitively explore and investigate complex subjects.
demand for arrest
Hindu organizations and people on social media are constantly opposing this film. Hindus have accused Leena Manimekalai of hurting religious sentiments and are demanding her arrest at the earliest.
Who is Leena Manimekalai?
Leena Manimekalai hails from Maharajapuram, a village south of Madurai. She came from a farming family and according to the custom of her village, after a few years of puberty, girls were married off to their maternal uncle. When Leena came to know that her family members were preparing for her marriage, she fled to Chennai. After that he did engineering. In later years, he also took up a job in the IT sector. After doing several jobs, he decided to get into film direction.
Also read-
Thor: Love and Thunder Review: Thor's love story is full of action, know the review before watching the film
Janhvi Kapoor Mimics Janice's Laugh: You must not have seen this talent of Janhvi Kapoor, Varun Dhawan shared VIDEO
UP Police shared the poster of Ek Villain Returns, gave this warning to the people




Source link