Entertainment News
Entertainment News Live Update: Priyanka shares daughter's picture, stars have fun at 'Lock Up' success party
09 May 2022 23:45 (IST)
Ayush Sharma said on the false rumors of his grandfather's death – 'He is fighting bravely'
Ayush Sharma has reacted strongly to his Instagram handle, rejecting all the rumours. Aayush wrote, "My grandfather Pandit Sukh Ram is a strong man and is fighting bravely. In this difficult time for our entire family, I request everyone to pray for my Grandfather's well being, as well as refrain the media from paying attention to any false news. At the end of the post, he wrote, "We will keep you updated and informed about your grandfather's health every step of the way. Heartfelt thanks for all the prayers."
09 May 2022 23:42 (IST)
Actor Aayush Sharma refutes rumors of his grandfather's death
Bollywood actor Aayush Sharma's grandfather and veteran politician Pandit Sukh Ram Sharma had recently suffered a brain stroke and was admitted to a hospital in Delhi, after which there were reports that The politician has passed away, but recently Ayush Sharma has reacted strongly to his Instagram handle, dismissing all the rumours.
09 May 2022 23:26 (IST)
Salman Khan, Mahesh Babu and Prithviraj Sukumaran launch 'Major' trailer in 3 languages
Adivi Sesh There is a lot of discussion about the trailer release of the upcoming film 'Major'. The makers of 'Major' on Monday launched the most awaited trailer of the film, which is based on the inspirational story of Army Officer Major Sandeep Unnikrishnan and his bravery and sacrifice in the 26/11 Mumbai terror attacks. To honor the memories of Major Sandeep Unnikrishnan, Salman Khan, Mahesh Babu and Prithviraj Sukumaran have also launched the trailer of the film in their respective languages. Salman Khan launched the trailer in Hindi and Prithviraj in Malayalam on their respective social media handles, while Mahesh Babu revealed it during the trailer release event in Hyderabad.
09 May 2022 22:51 (IST)
'Avatar 2' trailer released, see a spectacular view of Pandora's blue world in VIDEO
'Avatar' The audience had to wait a long time for the sequel of (Avatar). It actually took more than a decade. 'Avatar: The Way of Water' trailer will be released later this year. Its first footage was shown on April 27 at CinemaCon in Las Vegas and now the trailer of the film has been released online. The trailer gives viewers a glimpse into the wonderful world of Pandora. There are many such shots in the trailer, in which the sea and the creatures living in it are seen in a special role. Sam Worthington and Joe Saldana are seen in their respective roles in the trailer. He is seen with his family. The trailer is of 1 minute and 38 seconds. The trailer shared on Twitter has been viewed more than 27 lakh times in two and a half hours. The trailer has gone viral on the internet.
09 May 2022 22:35 (IST)
Krishna Abhishek cried remembering Govinda, said- 'I miss my maternal uncle a lot'
'The Kapil Sharma' Comedian and actor Krushna Abhishek, who played the character of 'Sapna' in the show, has made a different identity in the industry on the basis of his skills. In the relationship, he is the nephew of the superstar 'Hero No. 1' Govinda of his time, but the rift between the two has often been on people's radar. Both often avoid coming in front of each other. This was noticed even when Krishna was not a part of the episode when Govinda appeared on 'The Kapil Sharma Show', but in a recent interview, Krishna got very emotional while talking about his maternal uncle Govinda. Appeared. Krishna said that he misses his maternal uncle a lot and he feels that his maternal uncle must also miss him.
09 May 2022 22:22 (IST)
This year will be a big hit on ZEE5, along with 40 films, you will be able to enjoy 40 shows
ZEE5 has unveiled its blockbuster content slate for 2022 with over 80 titles spread across Hindi, Tamil, Telugu, Punjabi and Bengali. Thus, the slate includes over 40 original shows and over 40 films, covering multiple genres with cutting edge thrillers, high-voltage action, gripping dramas, light-hearted comedies and heart-warming romances. In line with its content strategy, ZEE5's vision is to tell stories that reflect the soul of the audience and at the same time make a mark in the consumer base across the country. As part of this vision, ZEE5 has collaborated with leading creative minds like BBC Studios, Applause Entertainment, The Viral Fever (TVF) as well as power house cinematic talents like Vetrimaaran, Prakash Raj, Amitabh Bachchan and Nagraj Manjule. has announced.
09 May 2022 21:29 (IST)
Fans call Darsheel Safari the 'real star kid'
The video has been made with scenes from movies like 'The Sky Is Pink', 'Taare Zameen Par', 'Kal Ho Na Ho', 'Jaane Tu… Ya Jaane Na'. Seeing Darsheel Safari, his fans have become nostalgic. One fan said, 'It is so nostalgic to see Darsheel.' Another fan commented, 'Darsheel Safari after a long time!' A fan also called Darsheel a 'real star kid'.
09 May 2022 20:52 (IST)
Darsheel told the glory of mother through poetry
Darsheel explains how mothers understand their children and can fight the world alone for their sake. He ends the poem by calling his mother a 'superhuman'. Netflix wrote in the caption of the video: 'From dropping us on the school bus to 17 missed calls making our hearts sad and teaching us how to use spoons. Mother really knows all these things! Happy Mother's Day to the real superhero.
09 May 2022 20:20 (IST)
Fans got emotional after watching Darsheel Safari in Netflix's VIDEO
Darsheel Safari (Darsheel Safary) was seen in the 2007 film 'Taare Zameen Par'. He played the role of a child in the film. Today he is 25 years old. She has come into the limelight due to Netflix's 'Mother's Day Special' video. The video has glimpses of films and shows which is telling about the mother-child relationship. Darsheel's fans are liking the video and they are happy to see him again. Darsheel started his talk with a line from the famous song 'Main Kabhi Batlata Nahi' from 'Taare Zameen Par'. Darsheel says in the beginning of the video, 'I never tell, but today I will tell you some untold things about Mom? He recited a poem about how mothers understand their children's problems without saying it and perhaps try to fix them with their home-cooked food.
09 May 2022 20:01 (IST)
Mike Tyson has a special role in 'Liger'
Vijay is going to step into Bollywood with 'Liger'. The film has been shot in Hindi and Telugu languages. Mike Tyson has a special role in the film. Talking about work, Vijay Deverakonda has many films at the moment. He is also a part of films like 'Jana Gana Mana' along with 'Liger'.
09 May 2022 19:42 (IST)
'Liger' to release on August 25
Vijay Deverakonda will be seen in the role of a boxer in 'Liger'. He is showing tremendous punch inside the ring in the video, which will surely appeal to the fans of action films. This action thriller film will knock in theaters on August 25 this year. Puri Jagannadh has directed the film, while Charmi Kaur and Karan Johar are involved in the production of the film.
09 May 2022 19:29 (IST)
First VIDEO from 'Liger' surfaced on Vijay Deverakonda's birthday
Vijay Deverakonda (Vijay Deverakonda) is celebrating his 33rd birthday today on 9 May. On this special day, the makers have released 'The Liger Hunt Theme' of 'Liger', which is a relic teaser of the film in Telugu language. This is the theme music of the film. Today 9 May Producer Charmi Kaur shared the theme music of 'Liger' and wrote, 'Today our liger was born and he was born to be a hunter, to be the king of the jungle! Today we start our pan India hunt.
09 May 2022 19:02 (IST)
Now we all need to know about Prithviraj Chauhan: Akshay Kumar
Akshay Kumar said that "Surprisingly, the brave king who did so much for India, yet people do not know much about him". Akshay said that when he used to study in school, then only one paragraph was taught about Emperor Prithviraj Chauhan in school, but now we all should know about Prithviraj Chauhan. This history brings together all the things that we should live by, along with patriotism. This story tells a wonderful story of valor, valor as well as love, which is rare to see today.
09 May 2022 18:53 (IST)
Because of this, Akshay Kumar wants to show his upcoming film 'Prithviraj' to every student.
According to the report of ZOOM, Akshay Kumar said that "It is an educational film. I want students to learn about our history and know what happened to get us to where we are today." Akshay further said, "Dr. Chandraprakash Dwivedi has tried his best to direct this film and do justice to the story. He was doing research for this film for 18 years. The shooting of the film was completed in just 42 days.
09 May 2022 18:27 (IST)
'Panchayat 2' Trailer Out: Chhaya 'Panchayat 2' trailer as soon as it was released, did you see?
'Panchayat 2' Trailer Out: The trailer of Amazon Prime Video's most popular web series 'Panchayat 2' has been released. The audience was waiting for this web series for a long time, which is going to end now. Yes, the second season of Panchayat is all set for its second innings on May 20. At the same time, its trailer has made the audience even more excited. It is clear from the trailer that like the first season, this time too the audience is going to have a lot of fun.
09 May 2022 17:42 (IST)
Nikki Tamboli's latest photos got fans' hearts
Nikki Tamboli has once again caught the attention of netizens with her fashion sense. She has shared some of her beautiful pictures on Instagram, in which she is looking very glamorous. Nikki Tamboli is a fashionista. She often shares her beautiful photos and videos on Instagram. He has now shared pictures of his latest photoshoot.
09 May 2022 17:06 (IST)
Ananya Panday's post for Vijay Deverakonda goes viral
On the occasion of Vijay Deverakonda's birthday, Ananya Pandey has also written a special message while sharing the photo. A cute birthday note written along with the picture is grabbing the attention of the people. Ananya Pandey is seen posing stylishly in a black dress with Vijay in the photo. On the other hand, the actor looks handsome in a black t-shirt and white shirt. He wrote in the caption, 'Happy Birthday Vijay Deverakonda, let's show amazing this year! love you. The actress shared the photo on her Instagram story about 6 hours ago.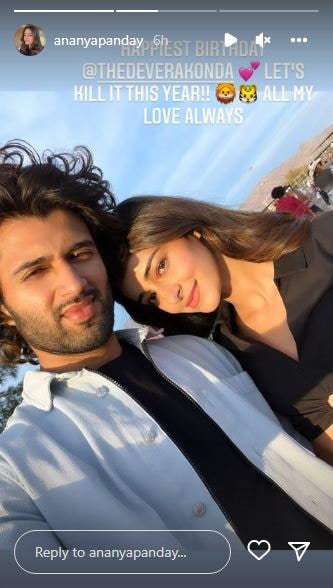 09 May 2022 17:02 (IST)
Ananya Pandey wishes Vijay Deverakonda a birthday
Ananya Panday has congratulated Vijay Deverakonda, the co-star of the film 'Liger', on his birthday in a unique way. Ananya Pandey has also shared a beautiful picture with him. Let us tell you that Vijay Deverakonda is going to make his Bollywood debut with the film 'Liger'.
09 May 2022 16:20 (IST)
The woman did such a dance on the song of Govinda at the railway station, seeing other passengers also started dancing
Social media today (Social Media) Has become a store of interesting and funny photos and videos, where you get to see different types of funny content every day. Another such funny and interesting video is becoming increasingly viral. In this video, you can see a woman wearing a sari and holding a pallu on her head, dancing to the song of Govinda at the railway station. This woman dances in her own tune in such a way that the people standing behind her are unable to take their eyes off her.
09 May 2022 15:56 (IST)
Rashami Desai got glamorous photoshoot in a classic blue slit gown dress
In recent times, the actress is constantly seen giving glimpses of her new photoshoots. Rashmi Desai is seen in a classy look in the new pics. Since the actress has chosen designer outfits of classic blue colour, she is bound to look classy.