Entertainment News
Bollywood Wrap: Raju Srivastava passes away, controversy erupts over Ajay Devgan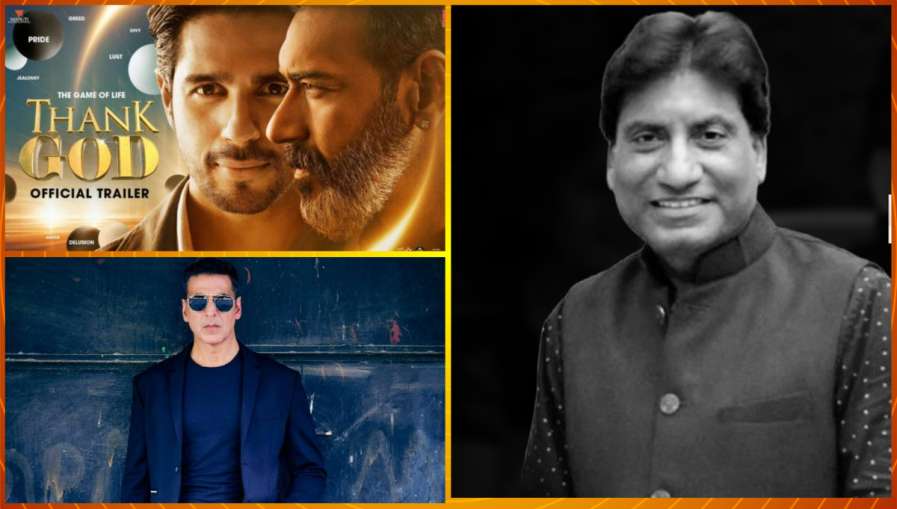 Highlights
Raju Srivastava passed away
Akshay Kumar shared an emotional photo
Salman and Chiranjeevi's film rights sold in crores
Entertainment Top 5 News Today: Today has brought very sad news for the entertainment world. Not only Bollywood and TV industry, the whole country is in shock today. Because comedian Raju Srivastava, who always makes everyone laugh, has moistened everyone's eyes. He has passed away. Everyone from PM Modi and Amit Shah has paid tribute to the comedy king. You will find every up-to-date news from the small screen to the big screen world right here. You are constantly connected with the entertainment world, so our eyes remain on the entertainment industry. Let us now know 5 big news from the entertainment world …
Raju Srivastava Passes Away: Famous comedian and actor Raju Srivastava has passed away. Yes! Famous comedian and actor Raju Srivastava has passed away. Popular comedian Raju Srivastava has passed away at the age of 58. The comedian breathed his last at the All India Institute of Medical Sciences (AIIMS) in New Delhi. Raju was admitted to AIIMS on August 10 after suffering a heart attack.
Raju Srivastava Death: Auto driver turned comedy king, know everything from Raju Srivastava's struggle to real name
PM Modi Tweet on Raju Srivastava Death: Prime Minister Narendra Modi has condoled the death of well-known comedian Raju Srivastava. He expressed his condolences by tweeting. PM Modi wrote – Raju Srivastava illuminated our lives with laughter, humor and positivity. He left us very soon but he will live on in the hearts of countless people for years of his rich work. His death is sad. Condolences to his family and fans.
Godfather on OTT: Telugu Megastar Chiranjeevi and Bollywood superstar Salman Khan starrer 'Godfather' has been bought by an OTT platform for a fancy amount. It is being told that the famous OTT platform, Netflix has bought the digital rights of the film for Rs 57 crore. The deal includes both Telugu and Hindi OTT rights of the film.
Chiranjeevi and Salman Khan starrer Godfather will be streamed on OTT on this day, earns crores before release
Akshay Kumar: Bollywood superstar Akshay Kumar may not have been a box-office and OTT success this year, but his recent outing with daughter Nitara has made him feel like a true hero. The actor took to his Instagram to share a video and a picture of him walking in an amusement park with Nitara. He captioned his Instagram post, "Took my daughter to an amusement park yesterday. Seeing her smile on winning not one but two stuffed toys for her was the closest I was to being a hero. Hashtag-Best Day Ever."
Thank God Controversy: Ajay Devgan, Sidharth Malhotra and Rakul Preet Singh starrer 'Thank God' seems to be in trouble now. After the release of the trailer, some people started to dispute about the film. Recently, there was a demand to ban the film on social media. At the same time, a letter has been written to the Union Information and Broadcasting Minister Anurag Thakur on the demand of banning the film.
Latest Bollywood News




Source link